Chicago Fire
An edge-of-your-seat view into the lives of everyday heroes committed to one of America's noblest professions. For the firefighters, rescue squad and paramedics of Chicago Firehouse 51, no occupation is more stressful or dangerous, yet so rewarding and exhilarating. These courageous men and women are among the elite who forge headfirst into danger when everyone else is running the other way and whose actions make the difference between life and death.
Skådespelare
Jesse Spencer

Matthew Casey

Taylor Kinney

Kelly Severide

Eamonn Walker

Wallace Boden
Visas på följande playtjänster
Kommande sändningar
Inga tablålagda sändningar de närmsta sju dagarna.
Senaste inspelade avsnittet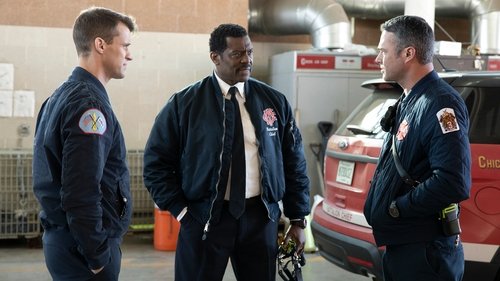 51's Original Bell
2020-04-15 | avsnitt 20
When one of 51's own gets injured on a call, Lt. Severide becomes obsessed with helping out. Foster contemplates a big decision. Kidd is concerned for one of her high school trainees.
Säsonger för Chicago Fire
Säsong 8

2019 | 20 avsnitt

Säsong 7

2018 | 22 avsnitt

Säsong 6

2017 | 23 avsnitt

Säsong 5

2016 | 22 avsnitt

Säsong 4

2015 | 23 avsnitt

Säsong 3

2014 | 23 avsnitt

Season 3 begins with a bang.. with the marriage of the chief, the loss of a friend and the plans for a wedding of two of the members of the house.

Säsong 2

2013 | 22 avsnitt

Säsong 1

2012 | 24 avsnitt
Visa alla säsonger